you need this. i knead you.
Welcome to the Massage Hodgepodge Portland Practice Page!🫨 Whoa - That's a mouthful!This is where you can find everything you need to know about my in-person therapeutic massage practice in Portland, OR. 💆🏽Are you already convinced? Great! You can book a session right now!So what's a session at Massage Hodgepodge really like?Time will slow down. Stars will align. The heavens will open and the wisdom of the ages will shine upon you. Your past and future selves will convene with you in this singular present moment to reveal not only the beautiful truth of your nature, but the mysteries behind reality itself. The weight of one thousand suns will dissolve your every tension. You will forget the meaning of anxiety. You will emerge weightless, transformed. You will no longer be in the world. The world will move within you.Also, there will be pan flutes. So. Many. Pan flutes.But for real though...Okay. It's going to be a massage. Which is to say, I am going to knead your muscles and joints with my hands and forearms and elbows. I will assess your wants and needs based on what you tell me and what I see, and then deploy my skills and training to make you feel better. This time is entirely, unapologetically for you.I was trained in swedish relaxation and deep tissue, but over the years I have also learned a thing or two about trigger points, myofascial release, thai massage, craniosacral, and shiatsu. You might say my approach has become a real hodgepodge of techniques.
Is Massage Really good for you?
For real? Are we still talking about this?It's not controversial to say the massage is good for you. It has been shown to reduce anxiety and depression. It can help you recover faster, perform better, and prevent injury. Massage can increase range of motion, boost immunity, improve balance, and on and on. The ABMP has many great resources about the myriad benefits of massage. Start HERE.Massage makes a difference. It really helps. And it feels good.Acute injuries and chronic conditions aside, how many things do you do for yourself that just feel good?Spoiler alert!Not enough. Not even close.The good news is that's it's never too late to start taking better care of yourself.Unless you're dead.Then it is too late.Please don't haunt me. 👻
What do other people think?
Not to brag, but the feedback is pretty universal.I'm the best.Okay, maybe not. But I might be the best for you. See what others have to say, and then book now when you're ready.No pressure...we can save that for your session. 😄
How do I find you?
Massage Hodgepodge is on NW 21st in Portland's Nob Hill neighborhood. It is just across from Ken's Artisan Bakery and Rudy's Barbershop.There are four off-street parking spots right in front of the building, but these are not guaranteed to be available.Otherwise, 2-4 hour paid street parking is widely available. Click on the map to see it on Google.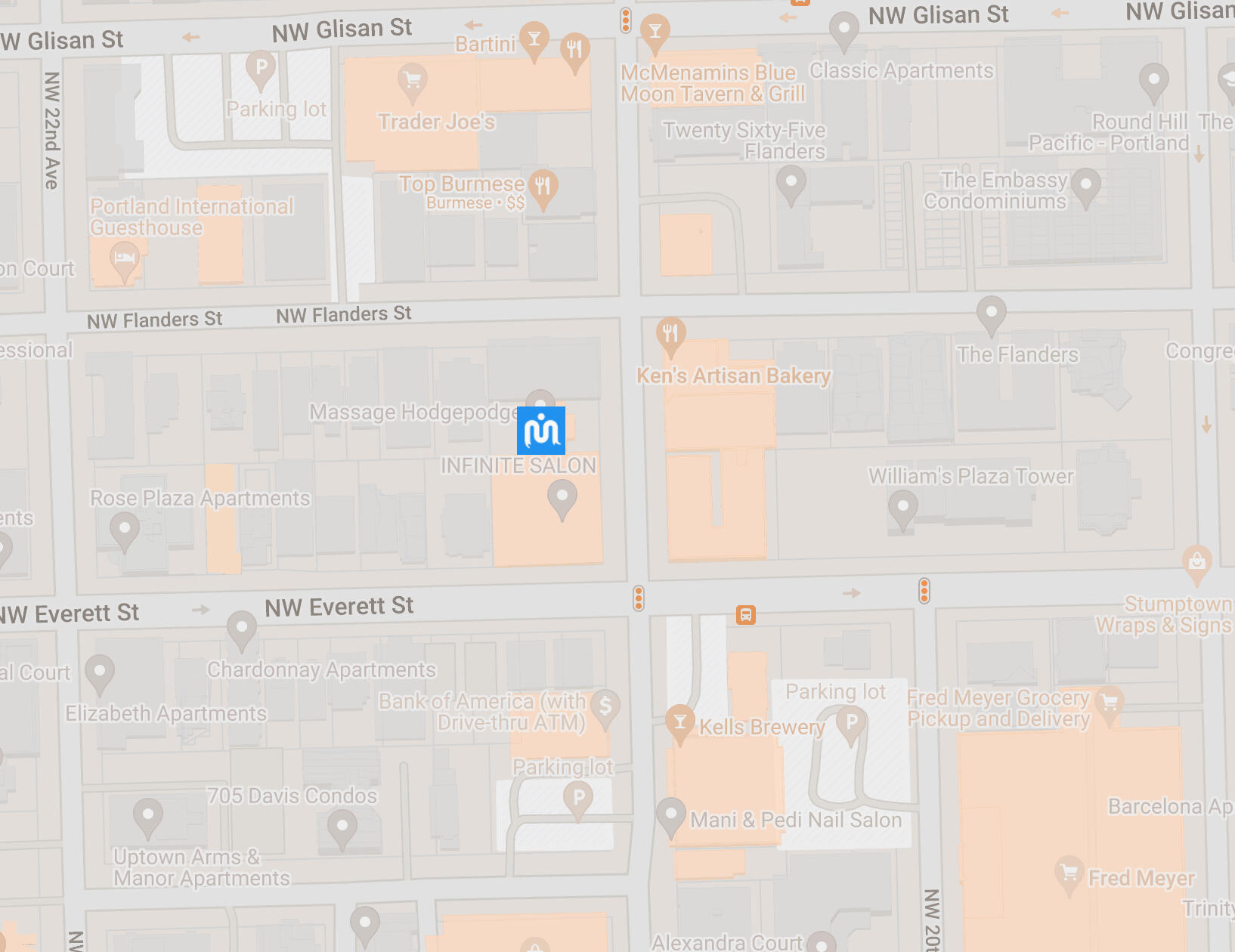 Book a session in just a few clicks.
Quick, intuitive scheduling - but feel free to reach out if you need some assistance. You can also explore my full booking platform HERE.
What kind of massage can I get?
Sessions at Massage Hodgepodge are always a custom experience based in two primary modalities:Swedish Relaxation & Deep TissueAfter a brief intake and assessment, we will agree on a plan of action to address your needs that day.My toolkit has expanded over the years, so you may very well experience some of these tools and techniques as part of your customized experience:• Hot Stones
• Cupping
• CBD topical salve
• Gua Sha (fascial scraping)
• Massage Gun➡️ ➡️ ➡️ Go To Pricing
How much is this going cost?
At Massage Hodgepodge, the quoted time is always your time on the table.New client special • 90-min • $135
Regular Rates
| TIME | COST |
| --- | --- |
| 60 minutes | $100 |
| 90 minutes | $150 |
| 120 minutes | $200 |
Series:
• SIX 90 minute sessions $840 (140 per session)
• TWELVE 90 minute sessions $1620 (135 per session)
You can share series sessions.Membership:
• 60 Minutes $95
• 90 minute session every month $135
Your card will be auto charged every month. You can book additional sessions within the same month at your membership rate.Ask about saving when you help me avoid processing fees by paying directly with cash, Venmo, or Zelle.Sorry, I do not accept insurance at this time.
The Massage Hodgepodge Privacy Policy
Keep your hands and feet inside at all times.We're going on a legalese roller coaster.
Privacy PolicyProtecting your private information is our priority. This Statement of Privacy applies to www.massagehodgepodge.com and Massage Hodgepodge, LLC and governs data collection and usage. For the purposes of this Privacy Policy, unless otherwise noted, all references to Massage Hodgepodge, LLC include www.massagehodgepodge.com and Massage Hodgepodge. The Massage Hodgepodge website is a Informational site for a private massage therapy practice. site. By using the Massage Hodgepodge website, you consent to the data practices described in this statement.Collection of your Personal Information
We do not collect any personal information about you unless you voluntarily provide it to us. However, you may be required to provide certain personal information to us when you elect to use certain products or services available on the Site. These may include: (a) registering for an account on our Site; (b) entering a sweepstakes or contest sponsored by us or one of our partners; (c) signing up for special offers from selected third parties; (d) sending us an email message; (e) submitting your credit card or other payment information when ordering and purchasing products and services on our Site. To wit, we will use your information for, but not limited to, communicating with you in relation to services and/or products you have requested from us. We also may gather additional personal or non-personal information in the future.Sharing Information with Third Parties
Massage Hodgepodge does not sell, rent or lease its customer lists to third parties.Massage Hodgepodge may share data with trusted partners to help perform statistical analysis, send you email or postal mail, provide customer support, or arrange for deliveries. All such third parties are prohibited from using your personal information except to provide these services to Massage Hodgepodge, and they are required to maintain the confidentiality of your information.Massage Hodgepodge may disclose your personal information, without notice, if required to do so by law or in the good faith belief that such action is necessary to: (a) conform to the edicts of the law or comply with legal process served on Massage Hodgepodge or the site; (b) protect and defend the rights or property of Massage Hodgepodge; and/or (c) act under exigent circumstances to protect the personal safety of users of Massage Hodgepodge, or the public.Tracking User Behavior
Massage Hodgepodge may keep track of the websites and pages our users visit within Massage Hodgepodge, in order to determine what Massage Hodgepodge services are the most popular. This data is used to deliver customized content and advertising within Massage Hodgepodge to customers whose behavior indicates that they are interested in a particular subject area.Automatically Collected Information
Information about your computer hardware and software may be automatically collected by Massage Hodgepodge. This information can include: your IP address, browser type, domain names, access times and referring website addresses. This information is used for the operation of the service, to maintain quality of the service, and to provide general statistics regarding use of the Massage Hodgepodge website.Use of Cookies
The Massage Hodgepodge website may use "cookies" to help you personalize your online experience. A cookie is a text file that is placed on your hard disk by a web page server. Cookies cannot be used to run programs or deliver viruses to your computer. Cookies are uniquely assigned to you, and can only be read by a web server in the domain that issued the cookie to you.One of the primary purposes of cookies is to provide a convenience feature to save you time. The purpose of a cookie is to tell the Web server that you have returned to a specific page. For example, if you personalize Massage Hodgepodge pages, or register with Massage Hodgepodge site or services, a cookie helps Massage Hodgepodge to recall your specific information on subsequent visits. This simplifies the process of recording your personal information, such as billing addresses, shipping addresses, and so on. When you return to the same Massage Hodgepodge website, the information you previously provided can be retrieved, so you can easily use the Massage Hodgepodge features that you customized.You have the ability to accept or decline cookies. Most Web browsers automatically accept cookies, but you can usually modify your browser setting to decline cookies if you prefer. If you choose to decline cookies, you may not be able to fully experience the interactive features of the Massage Hodgepodge services or websites you visit.Links
This website contains links to other sites. Please be aware that we are not responsible for the content or privacy practices of such other sites. We encourage our users to be aware when they leave our site and to read the privacy statements of any other site that collects personally identifiable information.Security of your Personal Information
Massage Hodgepodge secures your personal information from unauthorized access, use, or disclosure. Massage Hodgepodge uses the following methods for this purpose:- SSL ProtocolWhen personal information (such as a credit card number) is transmitted to other websites, it is protected through the use of encryption, such as the Secure Sockets Layer (SSL) protocol.We strive to take appropriate security measures to protect against unauthorized access to or alteration of your personal information. Unfortunately, no data transmission over the Internet or any wireless network can be guaranteed to be 100% secure. As a result, while we strive to protect your personal information, you acknowledge that: (a) there are security and privacy limitations inherent to the Internet which are beyond our control; and (b) security, integrity, and privacy of any and all information and data exchanged between you and us through this Site cannot be guaranteed.Children Under Thirteen
Massage Hodgepodge does not knowingly collect personally identifiable information from children under the age of thirteen. If you are under the age of thirteen, you must ask your parent or guardian for permission to use this website.E-mail Communications
From time to time, Massage Hodgepodge may contact you via email for the purpose of providing announcements, promotional offers, alerts, confirmations, surveys, and/or other general communication. In order to improve our Services, we may receive a notification when you open an email from Massage Hodgepodge or click on a link therein.If you would like to stop receiving marketing or promotional communications via email from Massage Hodgepodge, you may opt out of such communications by Customers may unsubscribe from emails by "replying STOP" or "clicking on the UNSUBSCRIBE button..External Data Storage Sites
We may store your data on servers provided by third party hosting vendors with whom we have contracted.Changes to this Statement
Massage Hodgepodge reserves the right to change this Privacy Policy from time to time. We will notify you about significant changes in the way we treat personal information by sending a notice to the primary email address specified in your account, by placing a prominent notice on our site, and/or by updating any privacy information on this page. Your continued use of the Site and/or Services available through this Site after such modifications will constitute your: (a) acknowledgment of the modified Privacy Policy; and (b) agreement to abide and be bound by that Policy.Contact Information
Massage Hodgepodge welcomes your questions or comments regarding this Statement of Privacy. If you believe that Massage Hodgepodge has not adhered to this Statement, please contact Massage Hodgepodge at:Massage Hodgepodge, LLC
325 NW 21st Ave. #103
Portland, OR 97209Email Address:
nick@massagehodgepodge.comTelephone number:
5032086729Effective as of August 2023